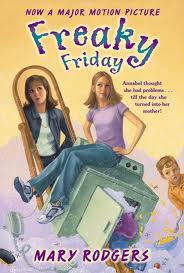 Freaky Friday by Mary Rodgers is about a girl named Annabel who wakes up one morning in her mother's body. The night before, Annabel had had a fight with her mother about how grown-ups get to do everything the way they wanted, so her mother decided that Annabel should see what it is really like. The book tells about bunches of hilarious calamities that Annabel gets herself into during the day, like when the washing machine starts to leak.
I loved this book! It was HILARIOUS and very original. I didn't see anything I had ever seen in another book. The book had a really good plot and had many surprises. I thought it was kind of weird that when she woke in her mother's body, she didn't start panicking and wasn't even surprised-because I sure would have been!
This book is on a 4th to 7th grade reading level.
Buy the book here.