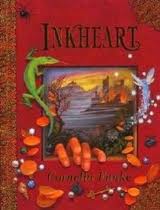 A book inside a book! Inkheart by Cornelia Funke is a story about Meggie, a young girl who loves books (like me!).  Her father binds books for a living , yet will not read to Meggie.He dislikes reading out loud so much that Meggie had to teach herself how to read. Then she finds out why.
Meggie's father can read things out of books. So when he reads 'Look at the dog,' a dog might come out. Normally, that would be awesome, but there is a catch. Something has to take the other's place. When Meggie was young, her mother and two cats had disappeared into a book called Inkheart. So that resulted in three new characters coming into the story to complicate things!
This book is on a 6th-8th grade reading level.  I love this book so much! There is action, adventure, and fighting – so boys and girls will both like this book. There is a movie about it with Brendan Frasier that I recently saw, but I didn't like it that much because it wasn't really true to the book.
The other 2 books, Inkspell and Inkdeath were REALLY long. When I got to Inkdeath, I couldn't stand to finish it because it just went on and on.  The author didn't put as much action in the last two books, so they got a bit boring to me.  I suggest you read Inkheart, not so much the sequels.
Buy these books here.