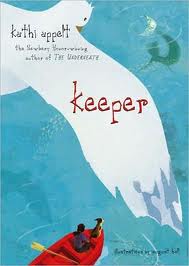 Keeper by Kathi Appelt is about a girl named Keeper who is on a quest for her mother, whom she believes is a mermaid. Keeper has been living with her mother's friend, Signe, since her mother 'swam away' when Keeper was three years old. When she messes up a special day by breaking a bowl and her friends ukulele, Keeper decides that it is time to find her real home.
I did NOT like this book. To be honest with you, I couldn't even finish it. The plot is weak and the details are weak. Also, the book seemed to be from a very worldly perspective – kinda New Age-ish. I would NOT recommend this book at all.
Even though I don't recommend this book, you can look at more reviews or buy it here.