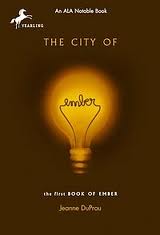 The City of Ember by Jeanna DuPrau is about a city of people who believe that there is no other place besides their city and the darkness. It was built over 300 years ago, with a supply of running water, stored food, and electricity.  But now, the food is running out, and the electricity doesn't work half the time.
Arlin, a 12 year old girl, has just gotten a job as a messenger and runs around the city, bringing messages to and from people. She lives with her grandmother and her little sister in an apartment. When Arlin and her grandmother find a long-hidden secret, Arlin's whole world changes.
I really liked this book. It is in a series called The Books of Ember, but I've only read this one so far. But I am sooo impatient for the next one to get in at the library!!! I think girls and boys would both like this book. This book is on a 5th-7th grade reading level.
Buy these books here.