I was in the educational aisle at the library, which I NEVER go to except when my mom says I have to, and was looking for something that wouldn't bore me to death. Well, I found these books.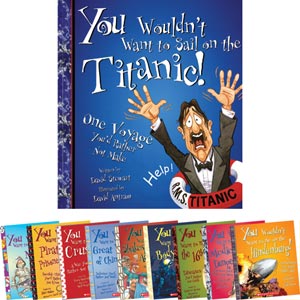 The You Wouldn't Want to series is about important historical events. Some of them include:
You Wouldn't Want to be a Mammoth Hunter
You Wouldn't Want to be a Civil War Soldier and
You Wouldn't Want to Live in a Wild West Town
I like these books because they make learning about events that are normally boring exciting and funny.  They tell you interesting and sometimes funny facts about important historical events and time periods.  Boys and girls would like these books. There are at least 50 books in this series. I think homeschooling moms could use these books in their history lessons because they keep kids' attention and teach them at the same time. The You Wouldn't Want to series is on a 3rd-5th grade reading level, but I like them and I'm 6th grade.  Also, my 2nd grade sister loves to read as much as she can and look at the pictures.
Buy these books here.