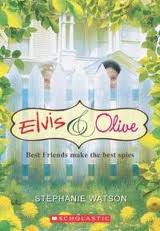 Natalie Wallis is bored. Summer has just started, and she doesn't know what to do. So she writes down an assignment in her notebook: "See how fast you can ride your bike around the block." So she hops on her bike an goes down the road. Then she meets a boy standing on the road with his shirt off. Or at least she assumes it's a boy…
The two friends decide to have a secret club and secret nicknames. They spy on all of their neighbors and write all of the information on index cards. But when the annoying little boy a few doors down finds their secret hideout, things start going very wrong.
Elvis and Olive by Stephanie Watson is good for people on a 3rd-5th grade reading level. It has a lot of adventure and mystery. I liked it and I think it is a good book.
Buy this book here.