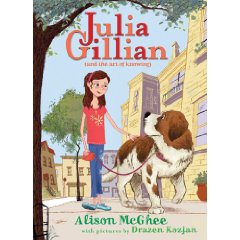 Julia Gillian and the Art of Knowing by Allison McGhee is about a girl named Julia. Her life had been nearly perfect. She takes walks in the park with her parents and goes to the dog park with her best friend/dog, Bigfoot, often. But this summer, things start to change.
Her parents, who are trying to finish their college degrees, are constantly reading and studying and don't have as much time for her. They think Julia Gillian needs to be reading more, so they tell her she has to read a book for 15 minutes every day. Julia Gillian likes the book at first, but then realizes what will happen at the end- the dog in the story is going to die. She doesn't want to finish the book, but will she be brave enough to do it?
I think this book was okay. I think that the author was trying to make it realistic, but I don't think that a 9 year old being allowed to wander around in Manhattan is very realistic. The author did a really good job showing how Julia Gillian felt in the book, and you could relate to her. The book didn't seem to have a solid plot, but it was more just the story of her life, as there wasn't really a 'main problem'. The book is the first in a trilogy and would appeal to girls on a 4th-5th grade reading level.
Buy this book here.