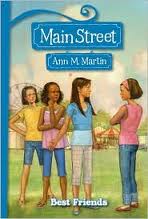 The Main Street series by Ann M. Martin is about Flora and Ruby, two girls whose parents died. They come to Camden Falls, where their grandmother lives, to stay with her. The sisters meet Olivia, a girl who lives next door, Robbie, a 16 year old boy with Down Syndrome, and many others. The book series is about how the girls overcome the challenges of friends, family, school, and their parents' death.
I like this book series because the author makes you really relate to the people in the books. Also, the writer makes you feel like you are in the books by adding lots of details. I'm a pretty big fan of Ann M. Martin, so I was happy when I found this series. She wrote the Babysitters Club series, and I really like that series. I've read up to book 8, and I think there are about 11, and the author is still making more.
This book is aimed toward girls and is on 4th-6th grade reading level.
Buy these books here.