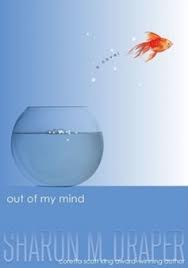 Out of my Mind by Sharon Draper is about a 11-year- old girl named Melody. She is a genius- she can make up poems and songs, her vocabulary is advanced, and she has a photographic memory. But there is a catch. Melody is 11 and has never talked, walked, or done anything that most 11-year-olds can do.
Melody feels like she needs to talk and wants to walk. But she can't figure how. She had been to more than 20 doctors, and most of them told her mom to put her in a special home for 'her kind'. Then, she discovers something that would change her life: Elvira. No, Elvira isn't a person, it is a device that allows Melody to speak, a Medi-Talker. For the first time in her life, she can talk to others, and show people what she is feeling inside.
You NEED to read this book. It is so powerful and amazing. That's really all I can say.
This book is on a 6th to 7th grade level. I think mostly girls would like this book.
Buy this book here.