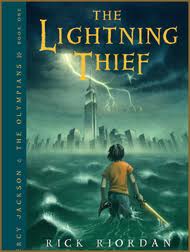 Percy Jackson and the Lightning Thief by Rick Riordan is about a boy named Percy whose father had been supposedly lost at sea. This book is the first out of five in the series, Percy Jackson and the Olympians. In the first book you'll see that Percy switches schools every year because of the trouble he gets into, even though he doesn't understand why many strange things are happening around him. We soon find out that Percy's father is actually a Greek god! Whoa!
I love these books. They are funny, scary, and exciting all at the same time. I have heard parents talk about how they don't want their kids reading these books because of the false gods, but I think it is just so out-there that it is sort of obvious everything is false. I like these books because there are many surprises that make you say, "I never would have guessed that!" The series reminds me a lot of the Harry Potter books. If you like those, you definitely should read Percy Jackson! These books are on a 5th-7th grade reading level and are for boys and girls. There is also a movie based on the first book that is rated PG. It's a great movie that you should definitely check out here!
P.S. The second movie came out recently as well. Here it is!
Buy these books here.