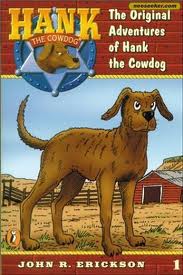 Hi! My name is Kelta and I am 7 and in 2nd grade. Audrey is my sister. She let me write a review, so here it goes!
The Hank the Cowdog series by John Erickson is about Hank, a dog who likes adventures and lives on a farm. Hank is always getting into trouble. Drover, his friend, is very funny. When Drover is scared, he tells Hank that he is hurt so he can get out of the situation. There is also a cat on the farm named Pete. He annoys Hank a lot. One thing he does to annoy Hank is biting him. They have lots of cool adventures.
I like these books because they are really funny. It is also cool how it sounds like Hank is talking, not the author. I think that this series is good for people from 3rd grade- 5th grade and boys and girls will like them.
Buy these books here.