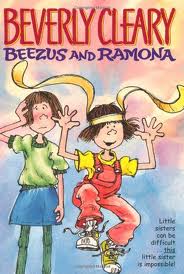 The Ramona series by Beverly Cleary is about a little girl named Ramona, who is four years old in the first book. She is a funny kid who doesn't mean to be a pest (well, maybe sometimes!), but to her sister she is. The first book mainly revolves around Beezus, her sister. The book is about Beezus's problems with Ramona. After that, the books are more about Ramona. In each book, Ramona is older and has to deal with different things that most normal people deal with at some point in their life, such as her cat dying and her dad losing his job.
I like these books because most kids can relate to to the life experiences of these sisters. I am still a big fan of books where something unbelievable happens, but sometimes it is good to read books about every day life. This series is very funny because you can hear what Ramona is thinking. My sister (she is in 2nd grade) has been reading the Ramona books and the rest of the Beverly Cleary books and she is loving every last bit of them. These books are on a 3rd-4th grade reading level and are for girls and boys.
Buy these books here.
P.S. There is a movie that came out in 2010 based on the first book, Ramona and Beezus, which was really good.